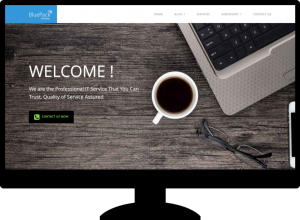 The new completely redesigned website offers visitors richer insight into the Company's value proposition and existing growth prospects.
KUALA LUMPUR, April. 25, 2017 — Blue Pack announced today the launch of its newly revamped website. This redesigned site offers quick and easy access to essential information and features while offering a more comprehensive understanding of the Company's value proposition and overall client benefits. The website also offers updated information on news and press releases, client testimonials, management biographies, and career opportunities. Updated blog post will launch the week of May 1st and will include topics centered around technology, tips on savings, key industry highlights and current legislative and policy updates in the clean tech field.
The new website has a clean uncluttered design, improved functionality and enhanced rich content focused on the Company's mission to provide cost effective IT services through durable and efficiency solutions. The new website goes live today, April 25th, 2017 and is located at the same address: www.2bluepack.com.
"We are excited about our new website launch and the robust information it provides for customers, partners and media to better understand Blue Pack's IT solutions," said John T., Director of Blue Pack. "We believe that this new site will allow our visitors to have a very informative experience as we continue to grow and increase our market presence."
Blue Pack's new website will be updated on a regular basis with news of product launches, business activity, corporate milestones, events, and press releases. Visitors are encouraged to explore the website and sign up for direct emails from the Company at www.2bluepack.com/contact/.
See more at: https://www.2bluepack.com/.
Media Contact:
Corporate Communications
corporatecom

2bluepack.com